Extra Select Layers Pellets Bucket 5ltr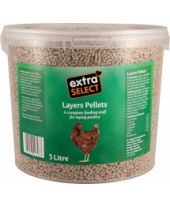 Description:
Extra Select Layers Pellets are designed to meet the daily nutritional needs of the laying hen when fed at the recommended rate. They are fortified with vitamins and minerals.
A complementary feeding stuff for laying poultry. Clean fresh water should be available at all times.
Composition: Wheat, wheatfeed, sunflower meal (ext), calcium carbonate, hipro Soya bean meal (non GM), micronised soya beans, soya oil, sodium chloride.