*NOT INSTORE* Extra Select Wheatgerm Pond Pellets Bucket 5ltr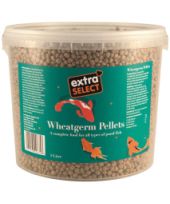 Description:
Extra Select Wheatgerm fish food range with diverse offering. All ingredients have been carefully selected to provide all fish with their full dietary requirements for both health and nutrition.

Specially formulated for cold weather feeding.

Contains all nutrients, vitamins, and trace elements for a balanced, healthy diet.

Strengthens fish for the spring, for a healthy start to the season.

Rich in highly digestible wheatgerm. Softens quickly for easy eating.

Low waste formula for clean, clear water.

Extra Select Wheatgerm Pellets comes in a handy bucket.

Feeding guide: Feed 2 to 3 times a day as much as the fish can eat in 3 minutes.

Composition:
Cereals (19% Wheatgerm), Derivatives of Vegetable Origin, Meat and Animal Derivatives, Fish and Fish Derivatives, Yeast, Oils and Fats and Spirulina.
Analysis:
Crude Protein 27%, Crude Fibre 3%, Crude Oil 5%, Crude Ash 9%