Little Big Paw Adult British Chicken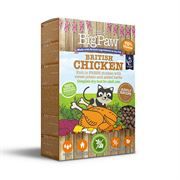 Little Big Paw adult complete cat food is rich in fresh chicken (70%) with sweet potato and added herbs. It is made with British ingredients in the UK and is 100% natural with added vitamins and minerals. This grain free, hypoallergenic formulation is suitable for adult cats from 1 to 7 years of age.
Little Big Paw contains:
Nourishing oils
Crunchy kibble to aid dental health
No GMO ingredients
Composition: Chicken meal (40%), Freshly prepared chicken (19%), Sweet potato (14.5%), Chicken fat (10%), Cellulose, Peas, Beet pulp, Brewers yeast, Dried egg, Fish oil (1%), Poultry gravy powder (1%), Minerals, Dried carrot, Seaweed meal, Prebiotic MOS, Prebiotic FOS, Yucca extract (0.03%), Rosemary extract, Thyme, Fennel, Dried cranberry, Citrus extract.
Analytical: Crude protein 34%, Crude fibre 3.5%, Crude fat 18%, Crude ash 10%, Calories Kcal 392/100g