*NOT INSTORE* Pittacus High Protein Hand Feeding Formula for Parrots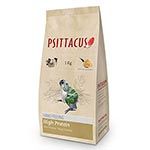 Psittacus High Protein Hand Feeding Formula
A follow on hand feeding formula ideal for hand rearing parrot species that require a low fat diet (Amazona, Pionus, Psittacula, Pionites) from the moment pin feathers emerge.
The formula contains stable high-oleic oil and papaya (for digestion).
For younger animals use Psittacine Crop Milk or Neonatal Hand Feeding formula.
Crude protein: 20.5%, Crude fat: 10%