Reptile Systems Zone 2 T8 UVb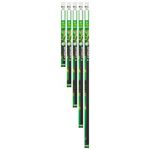 Reptile Systems Ferguson Zone 2 UVb T8 Fluorescent Tube suitable for species such as: Asian Water Dragon, Boa Constrictor, Californian King Snake, Common Musk Turtle, Red Foot Tortoise, Royal Python, Western Hognose & White's Tree Frog.
To be used with a fluorescent controller and reflector to increase UVb output.
Replace fluorescent UVb tube at least once a year.
Available in:
15 W (450mm/18")
18W (600mm/24")
25W (750mm/30")
30W (900mm/36")
38W (1050mm/42")