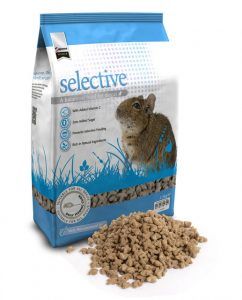 A balanced diet with broccoli & basil, formulated to meet the special nutritional needs of degus.
This carefully-chosen blend of high quality ingredients is designed to mimic the natural diet of a degu. Degus need a very low fat diet and high levels of vitamin C, together with high quality fibre to aid healthy digestion and to promote dental wear. Broccoli and basil provide natural antioxidants known for their nutritional benefits.
Rich in Natural Ingredients
Prevents Selective Feeding
With natural antioxidants
Supports digestive health
Helps maintain healthy skin & coat
COMPOSITION
Timothy hay, wheat, soya hulls, flaked peas, soybean meal, barley, linseed, calcium carbonate, soya oil, mono-calcium phosphate, dried basil, dried broccoli, salt, yeast extract.
NUTRITIONAL ADDITIVES/Kg
Vitamin A 50000 IU, Vitamin C 500 mg, Vitamin D3 2000 IU, Ferrous sulphate monohydrate 152 mg, Calcium iodate anhydrous 1.5 mg, Copper sulphate pentahydrate 20 mg, Manganese oxide 71 mg, Zinc oxide 62 mg Sodium selenite 0.2 mg.
ANALYTICAL CONSTITUENTS
Protein 14.0 %, Crude fibre 15.0 %, Fat content 3.5 %, Inorganic matter 5.5 %, Calcium 1.0 % Phosphorus 0.5 %.